Search all Ali's sites
Custom Search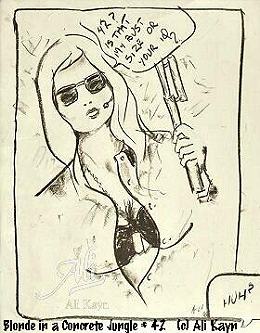 Blonde in a Concrete Jungle #42
Prints for Sale at artist|rising , a division of art.com


Blonde in a Concrete Jungle
Inspired by bigger-than-life, busty anime heroines, the Blonde is a woman of substance and armament. Her adventures, rendered in pastel on paper are told in a series of comic-style images.
42 is of course the answer to life, the universe and everything. This was the first of the series to be created. Her weapon out of power, the blonde grabs it by the barrel and resorts to verbal assault. Original in the collection of Richard Hryckiewicz.
Recommended anime? Ghost in the Shell.