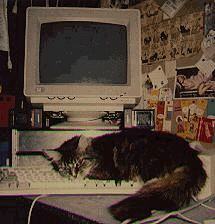 MaDum testing the login security on my first home computer (it failed, she logged in and set a high-ascii password using this high-tech technique).

Magazines and Newspapers
---
One tries to make even features and reviews on technology engaging and amusing, and I have received many kind comments over the years from my readers. Unfortunately the rapid changes in technology make articles about computing, especially products, date rapidly. (Mumble) years of news, reviews, and features in newspapers like The Age (Melbourne) and The Australian and computer magazines have paid the rent but don't stand the test of time. Of course some of my rants and raves and anecdotes continue to make the rounds and from time to time are passed back to me.
The articles and reviews on moving pictures (movies/films/pictures that is) have a greater lifespan and live on at Festivale Online Magazine.
The articles and features on Melbourne and Victoria get lots of traffic, especially my first internet-based column -- The Garden Voyeur. Some of the sites that link to them haven't actually read them, if you know what I mean.
Selected Bibliography

---

Courses
Time Mangement Course
The time management course is currently being repackaged and is being released as part of my Blog, Alizandria . Go to the blog and you can do my time management course, free. Starts December 12, 2008.

Commentary and Reviews
Science Fiction, Fantasy and Horror Fan Resource Book (editor and contributor) 1996
Ali Kayn edits and contributes to, Festivale online magazine .