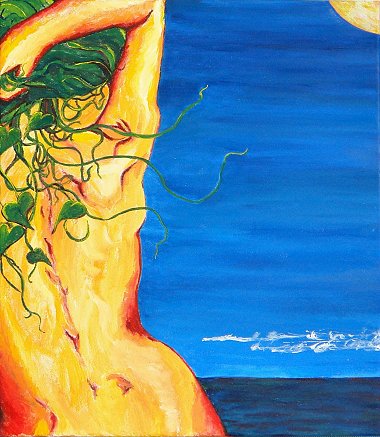 Recent work: Diana the Huntress (part 1 of diptych)
Prints for Sale at artist|rising , a division of art.com
Ali in Cyberspace:
http://festivale.info
http://reel-life.info
https://facebook.com/FestivaleOnline
https://www.facebook.com/ali.kayn.7
twitter: @ali_festivale
LinkedIn: https://www.linkedin.com/in/ali-kayn-9a608b45

to the web site of Ali Kayn,
a business analyst and a freelance writer, photographer
and artist living in Melbourne, Australia.

What's happening?

In October 2016, we at Festivale Online Magazine will be launching its 20th anniversary cover. Right now, in addition to content, I am recoding the web site to include structured tags (for searches) and mobile-first responsiveness, so that people can use the magazine more easily with a variety of devices and screen sizes.

Geeks are very necessary, but there is a place for communicators like myself who enjoy being a human-geek interface. Click here for more about my ICT experiences and interests.

Prints of several paintings and pastel sketches are becoming available at artist|rising, a division of art.com.

Several short pieces of fiction are now available here, plus the opening of my novel, Salely.

As I struggle with the process of digitising my libraries, I'm blogging. Alizandria is my library blog where I talk about all kinds of time and records management and, one of my favourite things, something-to-put-them-in, storage systems. The workbook is here